Property for sale Cala La Manzanera, Calpe
Cala La Manzanera: Seaside Living in a Rich Postmodern Architectural Neighbourhood
Set in a crescent-shaped bay with a backdrop of the Peñon de Ifach rock, and offering inspiring designs by Spanish architect, Ricardo Bofill ,  this coved paradise is gaining attention from homebuyers around the world.
La Manzanera is undeniably a picturesque area to live especially due to its panoramic sea views. Tranquil and serene, the way of living here is quieter than other coastal areas of Calpe such as Fossa-Levante and Arena-Bol.
Click Images Below to View Properties For Sale in Cala La Manzanera

On one side the Edificio Xanadu, a unique and colourful residential housing complex, was designed to complement the nearby rock formations. On the other, the bold design of the Muralla Roja is a modern interpretation of ancient Arabic buildings in the form of an apartment complex. Its red and blue colour scheme and fortress-like towers with interconnecting stairs and bridges create a beautiful symphony with Calpe's rocky coastlines.
The seafront Club Social de la Manzanera, another landmark,is known for its large round windows facing Peñon de Ifach. Nearby, you will find another intriguing complex of luxury vacation homes, El Anfiteatro. Here, the properties are arranged as an amphitheatre with a grand swimming pool in the centre.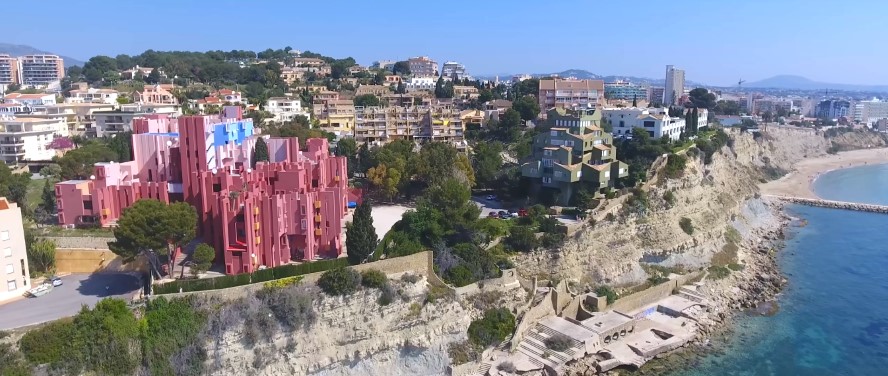 Many of the residential housing options are contemporary houses, villas, and apartments. Interiors are often soaked by the brightness of the Spanish sun all day long, and many of the properties boast large windows, terraces, and roof decks orientated to take advantage of the magnificent scenery. Here you are afforded a relaxing lifestyle where you can hear the waves lapping the rocky shores.

Primarily a residential area, there are nonetheless many nearby establishments such as the El Faro Restaurant and Bar, a beauty salon, hospital, offices, and a nearby park. The area is also a short walk from Calpe's center, and the vibrant beaches of Arena Bol and Puerto Blanco.
Click Here to View Properties for Sale Around La Manzanera