Property for Sale Calpe Port, Club Nautico
Perfectly concealed amidst the rolling hills of the Spanish countryside and Mediterranean Sea is the thriving town of Calpe. With less than an hour drive from the Alicante airport, Calpe is the ideal get-away from the loud and busy life of the city.
Click Images Below to View Apartments For Sale in Calpe Port 

Known for its picture perfect beaches, scenic natural landscapes, as well as historic finds, the Calpe Puerto or Port district (also known as the Club Nautico) is a premier area in Calpe. The iconic and breathtaking Penyal de Ifach is visible from the entirety of this small sea-side town. Exclusivities like the Real Club Náutico Calpe, and the impressionable Paseo Ecológico Príncipe de Asturias, coupled with the abundance of everyday conveniences make this a highly sought after location.
Well located supermarkets, cafés and restaurants are plentiful throughout the port area and are simply a leisurely stroll away from most residential buildings. Calpe port offers a lot at one's doorstep, and despite the close walking distance of many social and leisure spots, transportation is sufficiently accessible.
Its modern skyline consists of contemporary high-rise residential developments, chic studios and flats that seamlessly merge with the more traditionally inspired Spanish architecture and terrain. Calpe's port area offers a coastal outlook that extends to the ocean's horizon and is a prominent feature for most residential or commercial buildings. The waterfront views, promenade walks, light-bathed rooms and sunny balconies make these properties well suited for singles and new families looking for a healthy relaxing lifestyle.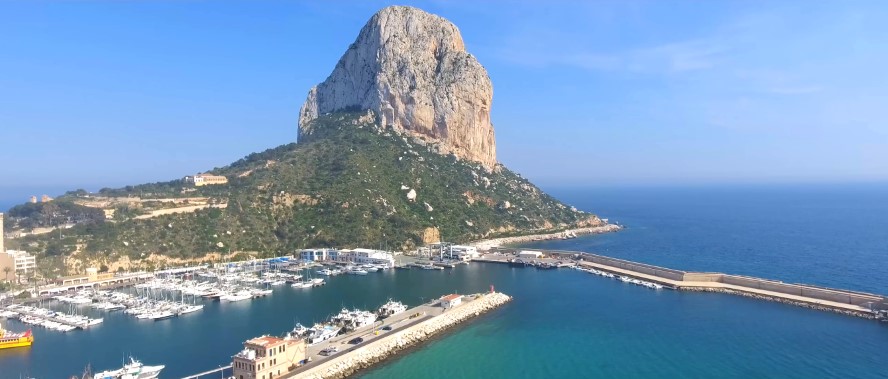 Calpe port's vibrant and sun-kissed streets are teeming with both local and international establishments. The Avenida del Port is often filled with cheerful bustle of local sand tourists alike as they enjoy wining and dining in the mild Mediterranean climate and refreshing sea breeze. As the day ends in this sea-side district, its casual daytime atmosphere slowly transitions, and a livelier port area comes to life. With plentiful restaurants, tapas bars, and cafés that cater to multicultural patrons Calpe port offers a true gastronomic experience for a variety of tastes and requirements.
In addition to its abundant contemporary leisurely options are the many natural recreational sights that are within the Club Nautico area. Among these are its famous beaches, parks, and landmarks such as the Baños de la Reina, the nearby Las Salines salt water lagoon, and a sprawling, beautiful natural park that boasts abundant wildlife, medieval ruins, and an archaeological museum - all found along the hike to the Penyal de Ifac's rocky summit.
With the delicious local cuisine, convenience of modern living, and the stunning view of the Mediterranean Sea, the Calpe port district is a tempting location to start life's next chapter. Charming, easy-going and irresistibly inviting Calpe port is an area coveted for both its casual and upbeat lifestyle. The rich heritage and dynamic community together with the picturesque scenery of crystal blue waters and burgeoning sailing culture is the embodiment of the Spanish Mediterranean town. 
Click Here to View All Properties Around Calpe Port