Property for Sale Calpe Beaches
Taking advantage of gorgeous weather and stunning coastlines is the core of the Mediterranean way of life. Encapsulating this irresistible appeal are the beaches of Calpe - all ideal for socializing, strolling, or simply lazing under the Spanish sun with the gentle waft of a cool sea breeze.
Click Images Below to View Properties For Sale on All Calpe Beaches

Playa Fossa
The residential area surrounding Playa la Fossa is a coveted location due to its charming community, relaxing beaches, and scenic views. With gentle weather throughout the seasons, lively shores, and family friendly activities Playa Fossa offers an enviable lifestyle.
Many properties in the area enjoy views of the crystal blue waters, the Ifach rock, as well as the Las Salinas lagoon which is famous for its migratory pink flamingoes. Beyond its white sandy beaches you will find a variety of convenient supermarkets, inviting bars, laid-back cafés, and an extensive array of restaurants that attract a diverse group of patrons. Most essential services are within easy walking distance of accommodation in the area.
During summer, Playa Fossa is relatively calmer than Calpe's other famous beaches, making it an ideal retreat for those seeking a good balance between the vibrant energy of Calpe and the relaxing quiet of the coastal life.
Click Images Below to View Properties For Sale in Playa Fossa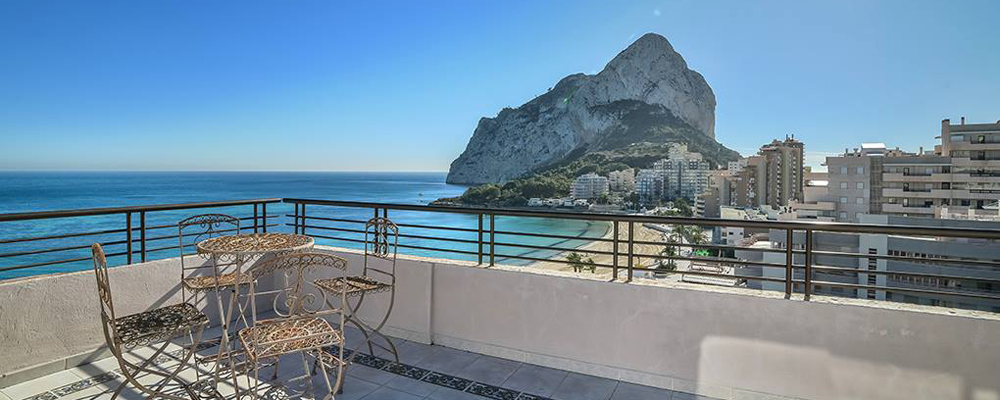 Playa Cantal Roig
The Playa Cantal Roig is a modest yet beautiful beach that is located in close proximity to the heart of Calpe. Its central location offers residents easy access to day-to-day necessities, leisurely activities, and other conveniences. Essential services such as a small local pharmacy and even a police station are all within walking distance.
Its nearby streets also host the Mercadillo Artesanal a local bazaar, and are lined with many boutiques, a wide variety of international restaurants, idyllic cafés, luxury hotels, inns, and contemporary residential developments.
Apart from Playa Cantal Roig's fresh aesthetics, it also prides itself with other elements that serve as a reminder of its rich past. East from where the sand ends, and heading towards the port, is Molí de Morello, an ancient Roman watchtower thought to be used to warn the settlers of any incoming pirates. Continuing along its promenade are several extensive ruins that double as a historical outdoor museum, which include the Baños de la Reina or "The Queen's Baths."
Playa Cantal Roig offers a unique glimpse of Calpe's significant history amidst all of its modernity and scenic Mediterranean beauty.
Click Images Below to View Properties For Sale in Playa Cantal Roig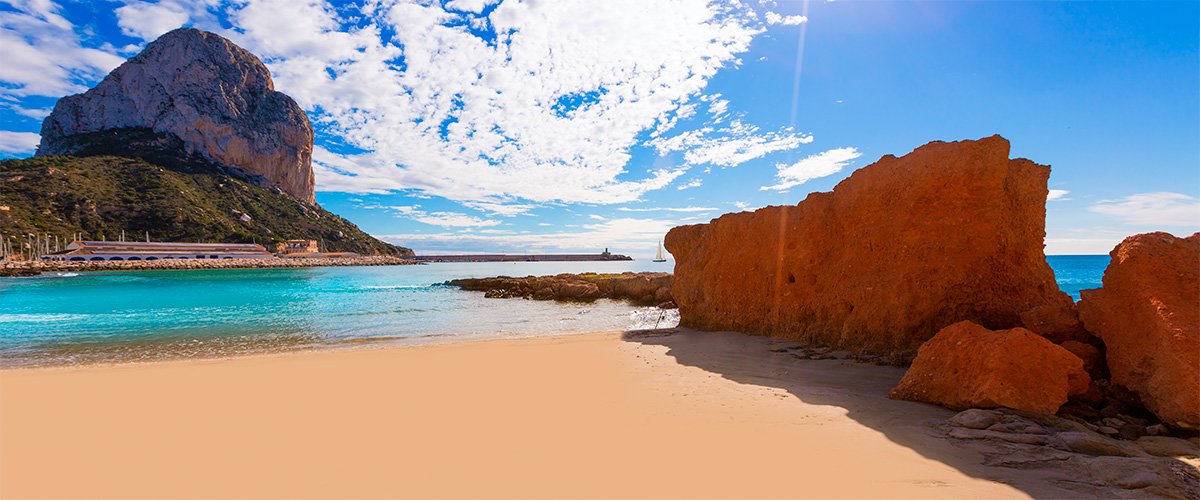 Playa Arenal-Bol
Arguably one of Calpe's most popular beaches is the Arenal-Bol. Its close proximity to the old town of Calpe makes it one of the most accessible and in-demand beaches of the area. With its active and upbeat atmosphere there is hardly a quiet moment in Arenal-Bol. Beyond its pristine turquoise waters and fine sands are expansive walkways and streets that lead to Calpe's town centre. Local buses en-route to the other towns outside Calpe are also available and are all within a 1 km walk.
Essential facilities such as banks, supermarkets, a post office, a park and a public library are all within easy walking distance. Speciality shops and services like 24-hour parking garages, clinics, pharmacies, repair shops and gyms are also available in the area. Located along the same coastal stretch as Playa Cantal Roig, Playa Arena-Bol is home to a wide array of commercial establishments that lie just beyond the promenade restaurants and relaxing cafés.
Walking or cycling is easy and highly recommended as it is an excellent way to get around while enjoying what the area has to offer.
Recreational activities like boating, jet skiing, and other watercraft are common, as is beach volleyball and football.
The nightlife in Playa Arena-Bol starts to pick up just as the evening temperatures cool down, and the evenings can be as active as the daytime.
Click Images Below to View Properties For Sale in Playa Arenal-Bol

Calpe is home to three beautiful beach districts. With each beach thoroughly maintained daily and fitted with facilities and services designed for everyone including people with limited mobility. Whether it's Playa Arenal-Bol, Playa Cantal Roig, or Playa de La Fossa, all these areas capture the essence of modern Mediterranean living complete with gorgeous views and wonderful weather.